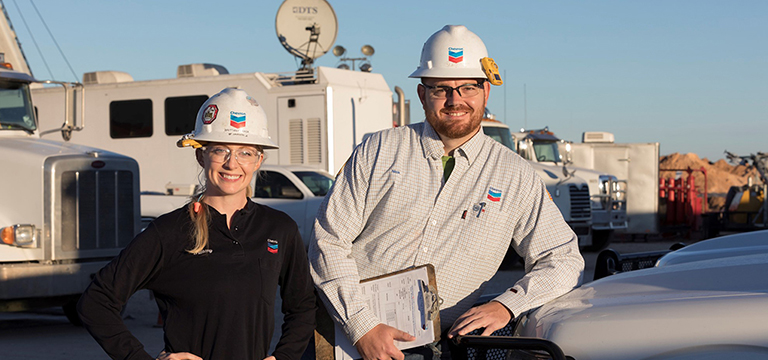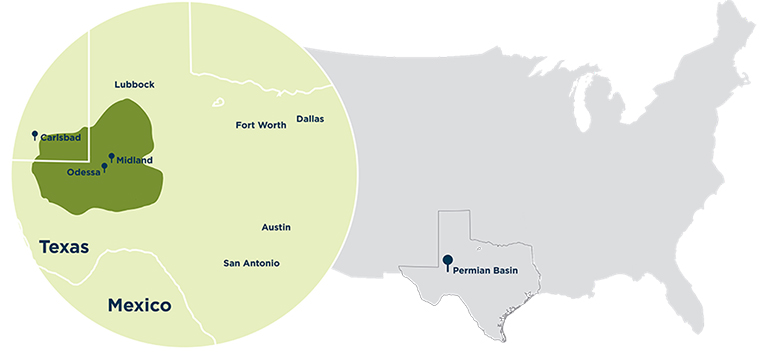 work environment
midland-odessa
There are about 600 employees at Chevron's Midland campus, putting their talent to work in all areas of our Texas-based Mid-Continent Business Unit. Sitting on 25 acres, the campus has achieved Leadership in Energy and Environment Design (LEED) gold-level certification for architecture. The building offers several amenities including an onsite branch office of the Chevron Federal Credit Union, a fully-staffed fitness center with state-of-the art equipment, classes and health/fitness challenges, a cafeteria open during breakfast and lunch hours, outdoor social areas, dedicated mother and prayer rooms, covered parking, and an historical art collection reflective of Chevron's history in the Permian.

Located in the west part of Midland, the campus has direct access to Highway 191 which connects Midland and Odessa. The office is also just minutes away from Loop 250, the primary route for getting around Midland offering a variety of dining and shopping options.

The Midland campus is home to seven employee networks: XYZ, WEN, BEN, AEN, Somos, VEN and PRIDE. The employee networks provide a host of options for volunteerism, and often sponsor company-wide events like the West Texas Food Drive, the Salvation Army Angel Tree program and the annual golf outing and clay shoot. The office also celebrates together twice a year at the company picnic in June and holiday party in December.

Dress code is business casual, unless an employee is visiting the field where appropriate field attire is required.
carlsbad
There are around 250 employees at Chevron's Carlsbad campus, housed in the Carlsbad/Eddy County Industrial Complex. The building offers campus parking, a dedicated mother and focus room, an outdoor break area, and a historical art collection and magnetic photo grid walls.
The Carlsbad campus is home to the XYZ Network. Employees are involved in the Annual National Public Land Day in September.
Dress code is business casual unless an employee is visiting the field where appropriate field attire is required.
U.S.-payroll employees can learn more about the benefits of a relocation to the Permian region on the Permian Employee Enhancement Program site.
housing
For prospective buyers in the housing market in Midland-Odessa and Carlsbad, finding a good realtor is essential. Single-family homes, patio homes and town homes are available. Make sure to contact a
Moving Mentor
for advice.
If renting is preferred, both apartment complexes and houses are available for rent. Both Midland-Odessa and Carlsbad have many apartment complexes with more under construction. The many new apartment complexes are a perk for those interested in renting. Many have pools and workout facilities on the premises. There may be waiting lists, so make sure to get on a list as soon as possible. Pets are allowed in some communities with a deposit. Garages and covered parking are less common.

Select a category to view photos highlighting Living and Working in the Permian:
shopping
Midland-Odessa is home to a wide range of shopping options like
Midland Park Mall
, which is currently undergoing a renovation, and
Music City Mall
. Each mall offers a variety of popular national chains like Dillard's, JCPenney, Gap and Old Navy. Carlsbad is home to
The Shoppes at Carlsbad
and
The Forum of Carlsbad
. The malls offer a variety of popular chains like Macy's, JC Penney, H&M, Zara, Lululemon and Apple.
The region is home to a plethora of outdoor shopping malls, outlets and national chains, including Walmart, Target, Home Depot, Lowe's, Ashley Furniture, Rooms to Go, and Bed Bath & Beyond, that service of a variety of needs including clothing, furniture, home, children, books and more. Visit the chambers of commerce for more information.
Midland-Odessa is home to many large grocery retailers, HEB, Albertsons, Sam's Club, Natural Grocers and Super Mercado, as well as specialty grocers. HEB has a large wine selection and a build-your-own six pack feature in its beer section. A variety of specialty cheeses and catering services are available. Albertsons has a nice selection of foods and medicine in a modern supermarket setting. Super Mercado has an excellent selection of Latin foods, tres leches cakes, fire-roasted chilies and tortillas.

Carlsbad is home to Albertsons, La Tienda and Walmart. La Tienda offers a variety of everyday essentials and specialty items from around the world.
Midland has a
downtown farmers market
open Saturdays from 9 a.m. to 1 p.m. Food, art and pottery are available from local vendors and growers. In Odessa, you can find the local farmers market at Parks Legado on Saturdays. Carlsbad offers a
seasonal farmers market
on Wednesdays.
transportation
Most people drive their own cars in Midland as commutes are typically 10-15 minutes in duration and 20-25 minutes in Carlsbad. For public transportation options, please visit
EZ-Rider
.
recreational and entertainment
additional information
With a growing industry comes a growing community where Chevron employees raise their families, serve as leaders in the nonprofit space, and enjoy all the attributes the area has to offer. The Permian combines "small town feel" with big city opportunities. Traffic in Midland is non-existent compared to Houston, Dallas or Los Angeles. Average trip time across town is 10 to 20 minutes depending on time of day and destination. A revitalized downtown area, pretty streets and a relatively low crime rate make Midland a great place to live.