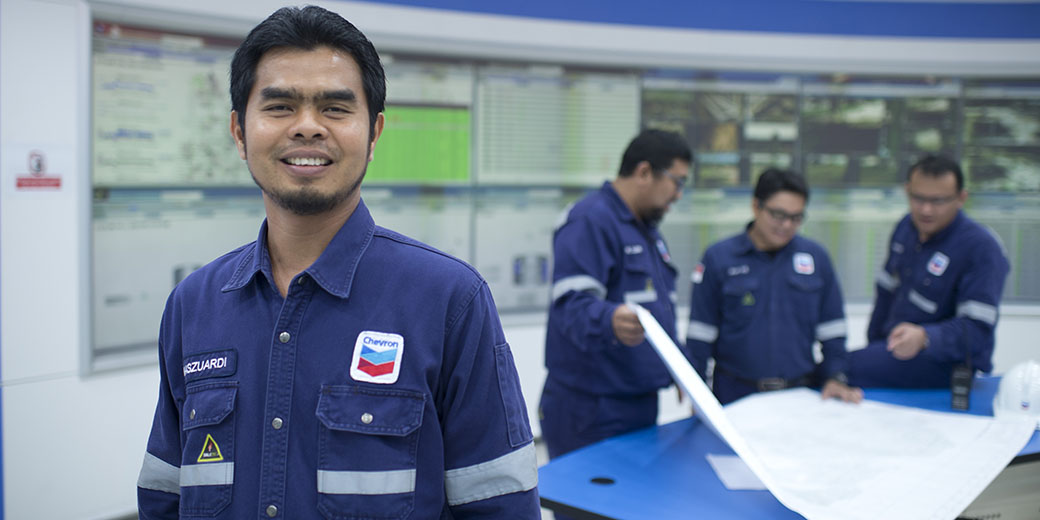 life in camp
Rumbai Camp - Camp life is like living in a close-knit neighborhood. The camp is the center for work, socializing and children's schooling. There are houses for nationals and expatriates, guest houses and temporary accommodation for visitors and those on short-term work assignments. Various services are available in camp to provide for everyday needs. These include a commissary, post office, gas station, fire station and banks. Water and power are all company provided. Internet access is available through a service provider. Recreational facilities inside the camp include a swimming pool, gym, tennis courts, an 18-hole golf course, bowling alley, soccer fields, and squash and basketball courts. In addition, there are mosques and churches with regular services of worship.

Rumbai camp is located in the middle Sumatra and contains areas of untouched jungle, which is a natural habitat for a wide variety of wildlife including monkeys, squirrels and a multitude of bird species. Due to the proximity of the camp to the jungle, wildlife frequently find their way into camp.
housing
There are more than 500 houses in Rumbai camp. Each house is located in a complex named after an Indonesian plant. Water is purified and is safe to drink from the tap or use in cooking. It's recommended that only bottled water or drinks that have been boiled, such as tea or coffee, be consumed outside of camp.

The houses have three bedrooms, two baths, an enclosed front porch, a storage area and an indoor laundry area. Expatriates are assigned a home before the mandatory pre-assignment trip so they can see the house and decide what furniture to ship and what to buy locally. Most floors are tile. Area rugs are commonly used instead of wall-to-wall carpeting. All accommodations are air conditioned. Employees paint and decorate the interior of their homes to fit their personal styles and make their children feel comfortable. All rooms are wired for dual voltage (110/220).

Basic company provided furniture is available including beds, built-ins, china cabinets, as well as dining and living room furniture. Anything can be made or altered. Local seamstresses and tailors produce clothing, upholster couches or seat cushions, make drapes and just about anything else that is requested. Tailors are skilled and reasonable.
education
There are 11 schools serving national and expatriate children within the camp. Cendana High School is a national school located inside the camp.

Expatriate parents view the quality of education provided by the International School of Riau and the family time that camp life affords as being among the key benefits of an international assignment to Sumatra. The school is managed and operated by International Schools Services (ISS) of Princeton, N.J., and has received accreditation from the Western Association of Schools and Colleges (WASC). For parents with school-age children, many social activities are centered around the school. There is an active parent-teacher organization that includes non-Chevron expatriates. They coordinate the scouts, soccer, swimming, rock-wall climbing, tai kwon do, golf and tennis lessons.

A bus service is available to take children to and from school, including coming home for lunch. Students can also ride a bicycle, a motor scooter or roller blade to and from school.

The school libraries in both Rumbai and Duri contain between 8,000 and 10,000 books with sections for parents and teachers.

view slideshows about rumbai and minas so you can know what to expect in the following categories:
shopping
on the compound
Basic foodstuffs, such as cereal, frozen foods, canned and bottled goods and a few dairy products are on sale inside the commissary. While the store doesn't carry a full stock sufficient to meet all shopping needs, some meat and fresh vegetables are available as well as convenience items such as pasta, bread, catsup, butter, snacks, ice cream, cookies and household cleaning supplies.
A variety of fresh fruit, vegetables and seafood is available at the local market pasar bawah. The market is open every morning and is in the nearby city of Pekanbaru. Pekanbaru is a large city. Home to an estimated 750,000 people, it is the capital of Riau province and approximately a 20-minute drive from Rumbai camp.
Rattan furniture can be bought readymade or made to specification. There are several rattan shops on the road between Rumbai camp and downtown Pekanbaru, each offering unique styles and patterns. Most major car manufacturers have sales and service dealerships in Pekanbaru. The Toyota dealership sells the locally made Avanza for around US$20,000. Large families may prefer the Kijang, which seats seven passengers and sells for around US$30,000. Modern showrooms and service counters make it easy to purchase and service a car locally. Automobile insurance is also widely available.

Spas, such as Taman Sari, offer cream baths, facials, manicures and pedicures at very reasonable prices.
Mall Pekanbaru is an enclosed mall with a parking lot, Lucky Market, Gramedia Bookstore and Mega Department Store outlets. The photos provide a good snapshot of what goods are available. Lucky Market sells fresh fruit, vegetables and familiar brands of pet food, toiletries, and canned goods. Because markets do not consistently carry the same merchandise, expatriates will stock up on their favorite imported items when they find them.

The mall's hair salons service both men's and women's hairstyling needs.

Gramedia offers the latest best sellers, magazines and stationery supplies. Lotte Mart is a large membership store selling perishable and non-perishable goods. The duty-free shop in Pekanbaru stocks a good variety of wine and spirits. Shoppers need to present a non-Indonesian passport. The Table Top store sells glassware, dishes, vases and many other household items.

The SKA mall houses a variety of retail and restaurant outlets. The Hypermart Supermarket sells fruit, vegetables, baked goods and meat and fish. Mall Ciputra is a modern indoor mall with a Baskin Robbins, batik shop, restaurants, a large department store and a movie theater featuring some of the latest American films. Some families do their own shopping for groceries, while others send their household help to shop. Western-size clothing and shoes are hard to find in Indonesia. Indonesian sizes do not correspond with U.S. sizes and many expatriates make their clothing and footwear purchases during visits back home.

Employees also order merchandise and grocery items from stores in Jakarta. Orders are placed either in person or online. The stores then deliver the purchases to the company airplane for shipment to Pekanbaru where they are later delivered to the expatriates' homes in Rumbai. Shoppers may have to look a little harder than they would at home for their favorite food items, but can usually find most of what they need.
transportation
The company provides a car pool and driver service for employees to go into the city for shopping or dining. A nominal hourly fee is charged for usage. Within camp, employees use the camp taxis or drive their own cars, which may be purchased with company assistance. Drivers may also be hired to drive private cars outside camp.
recreational activities and entertainment
Rumbai is a relaxed and close-knit community. In addition to recreational facilities within the camp, there are many social activities available, including special-event nights at the Rumbai Country Club. Several groups meet regularly for canasta, book discussions, golfing, walking, "Moms & Tots," and the Parent-Teacher Organization at the school.
summary of expatriate living
This section includes brief information about the Welcome Committee, pets, religion, household help, travel and more.