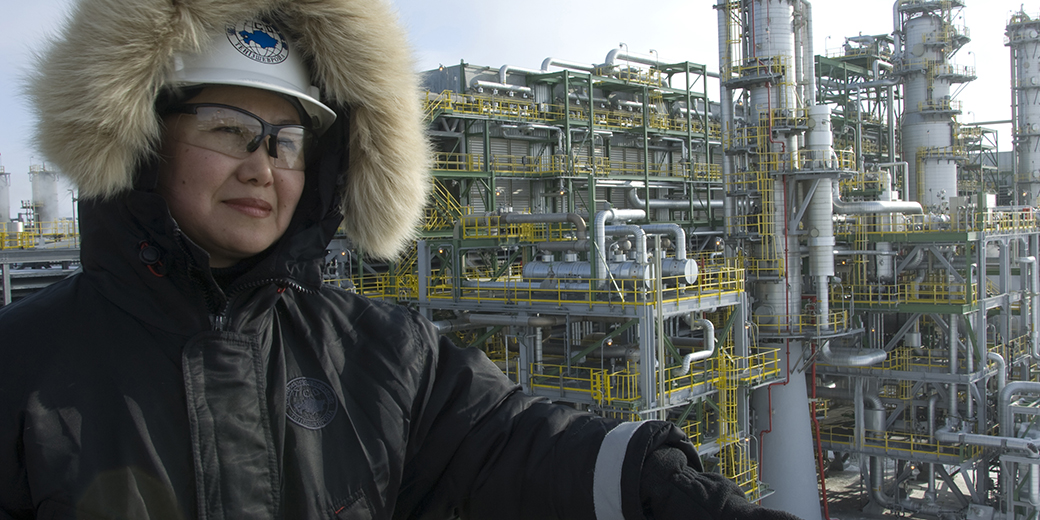 introduction
The following information and pictures are provided to help employees who are considering an assignment see what it is like to work and live in Atyrau, Kazakhstan.
housing
Dostyk (Kazakh word for friendship) Village is a gated community on the European side of the Ural River and is home to about 90 families. Dostyk has two director's homes and 86 two-story townhomes that have four bedrooms, living and dining areas, a small yard and a small garage. The priority for Dostyk Village is families with school-aged children. Amenities include fitness center, gymnasium, recreation center, indoor tennis courts, outdoor swimming pool and indoor lap pool. Flooring is carpet (upstairs only) and heated tile. Townhomes are completely furnished with standard furniture except for lamps, small appliances, televisions or decorative items. Townhomes have gas stoves, electric ovens and treated water. Several areas in the townhomes are wired for 110 volt and 50-cycle electricity including the kitchen and bathrooms. Other sockets are 220 volt for the two-prong, European-type plugs.

Employees on resident assignment may also be housed in fully furnished townhomes in the Chagala complex. Chagala houses include 2 refrigerators, microwave, washing machine, as well as daily laundry and cleaning service and internet. There is no dryer provided. The voltage for these houses are 220v. Employees and their dependents living in Chagala have full access to Dostyk's community facilities.

TCO leases furnished apartments at Ardager Residence Building in Atyrau. The apartments are located across the street from Dostyk Village. Ardager has a gym and a swimming pool that can be freely accessed by residents. Resident expats will be assigned either a two-bedroom apartment and or a three-bedroom apartment. All apartments provide daily laundry and cleaning services, internet/wi-fi, satellite TV and trash pick-up/removal at no additional cost to residents. Employees and their dependents living in apartments have full access to Dostyk's community facilities.
support services
Atyrau is one of the fastest developing cities in Kazakhstan. While still fairly remote, the expanding community and evolving Kazakh economy position Atyrau for continued development.
education
The
Dostyk American International School
in Dostyk Village is provided for students in pre-K through grade eight. It is operated by
International Schools Services
under contract to Tengizchevroil and is accredited by
Middle States Association of Colleges and Schools
. The school provides an American-based curriculum and requires fluency in the English language as one of its criteria for admission as all curriculums are taught in English. Children above eighth grade usually go to boarding school.
Four-year-olds and older will attend Dostyk International American School. In addition,
QSI International School of Atyrau
is a non-profit institution that has an early childhood education program. Many families also choose local pre-school options for their children.

view slideshows about atyrau so you can know what to expect in the following categories:
shopping
There are several supermarkets in Atyrau and some outdoor markets that specialize in fresh produce. Options for general needs shopping like clothes, shoes, kid's toys and sports equipment are growing and continue to expand in available selection.
There are recreational activities available in and out of Dostyk Village. Dostyk Village has indoor and outdoor pools, a multi-purpose gym, exercise facilities, indoor and outdoor tennis courts and walking paths. The Dostyk Clubhouse has a game room, lounge, restaurant and bar.

You can find traditional Kazakh entertainment ranging from sporting activities, drama and musical variety shows. The Ural River provides entertainment in the winter with ice skating and ice fishing; and in the summer with kayaks and boating. There are a few local bowling alleys, billiard rooms and video game arcades. Atyrau has an art and a natural history museum that both have frequently evolving exhibitions. Short excursions outside Atyrau to archeological digs are also a must see.

Atyrau residents have a tradition of organizing a variety of activities. For the kids, there are Friday night movies, Saturday sports and scouts. For adults, there is volleyball, bunko, book club, mahjong, circuit training, canasta, TGIF, cycling, running, volunteering and many other activities.

There are several bars and night clubs in Atyrau that have local entertainment and many international celebrations like St. Patrick's Day and theme nights.
There is a growing list of good restaurants with many different types of food available such as Italian, American, Mexican, Indian and other Asian foods. A small, but expanding list of restaurants will deliver to homes or apartments.
summary of expatriate living