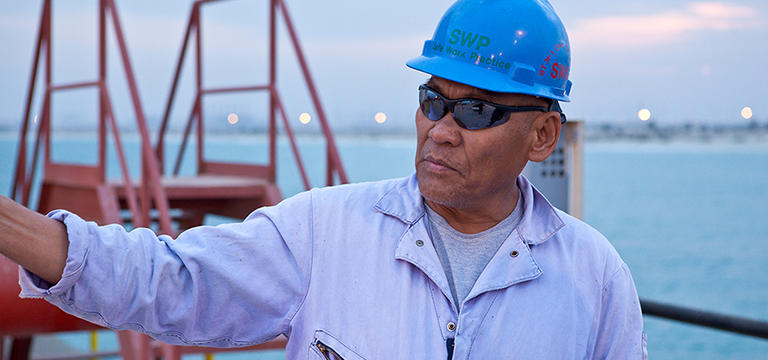 introduction
The following pictures and information are provided to help employees who are considering an assignment with Saudi Arabian Chevron (SAC) to see what it's like to work and live in Kuwait. Employees on a Chevron network may
view this video
about life in Kuwait.
Saudi Arabian Chevron (SAC) has two office facilities: the main SAC office facility is located in the SAC Camp at Mina Saud while the other facility is located at our Joint Operations center (JOC) in Wafra. The JOC is about a 45-minute commute from the SAC Camp. The main SAC office facilities are comprised of several buildings that house Administration, Technology, Training and Engineering. The office facilities at the Wafra Joint Operations Center provide direct support to the operations asset. The buildings are single and multi-level structures.
The amenities of the SAC offices include kitchenettes that are manned by contract staff and offer tea, coffee and filtered water as well as access to microwaves and refrigerators. Employees can bring bags lunches or order lunches through the in-house catering service. Meeting rooms are available at both office facilities and most meeting rooms are equipped with audio/video aids.
The general atmosphere in the SAC offices is busy, friendly and open with a mixture of cubicles and offices. The standard office hours are Sunday through Thursday, 7 a.m. to 3 p.m. The dress code is smart business attire during the week and smart casual dress on Thursdays.
housing
SAC camp
The majority of expatriates live on the SAC camp in Mina Saud which is about 100 km (approximately 60 miles) from downtown Kuwait. The houses, most of which are beachfront, are situated on a point of land which extends into the Gulf.

There are 70 older villas, which are predominately three bedrooms, two and a half baths and 50 new villas. The new villas have four bedrooms and five bathrooms. The camp offers an additional 10 single-bedroom homes for single employees, located in the central part of the camp. There are guest rooms located near the Administration building. New arrivals are housed in one of the above type homes.

The accommodation type and location where expatriates will be housed is based on availability, with final determinations are made by the Management Housing Committee. Some families may be placed in temporary housing until a villa becomes available.

Basic furniture and large appliances are provided. Expatriates are welcome to bring furniture items as long as they stay within their shipment requirements. Power is reliable, but there are occasional surges and power interruptions. The campus villas are wired for 220 volt for the three-prong, UK-type plugs.

In addition to the residential area, the camp includes the SAC administrative office and workshops, an oil storage facility and the infrastructure to pump oil for offshore loading, two beaches, recreational facilities, a clinic and a small grocery store. The camp population is multinational.
education
There are many English-speaking schools in Kuwait. SAC expatriate families currently use approved schools that the company will pay for. Transportation is provided for camp residents to both day and after school activities. The school year runs from September to June.
Below is the contact information and links to the websites for approved schools.

view slideshows about mina saud so you can know what to expect in the following categories:
transportation
SAC provides expatriates with a company vehicle that can also be used for personal use. Spouses of employees are not allowed to drive the company vehicles but are allowed to drive in Kuwait after securing the proper authorization. Expatriates can purchase or lease cars in Kuwait for their families. For all expatriates and camp residents, there is a fleet of cars and SUVs that are available to employees and their families per company policy. Expatriates rely heavily on cars because the SAC camp is 40 minutes from the nearest town and more than one hour to downtown Kuwait City.
recreation and entertainment
Arabic is spoken in Kuwait and many Kuwait and Saudi nationals living in Kuwait speak English.
Dress for expatriates and their families in Kuwait is typically Western-style clothing. Those moving to Kuwait need to bring clothing and outerwear for long hot summers.
There are many volunteer opportunities in Kuwait local communities. Inside the camp there is always an opportunity to help out with one of the many pre-assignment visits, special events or regular activities.
For more information about local information check out
this article
on volunteer opportunities in Kuwait.