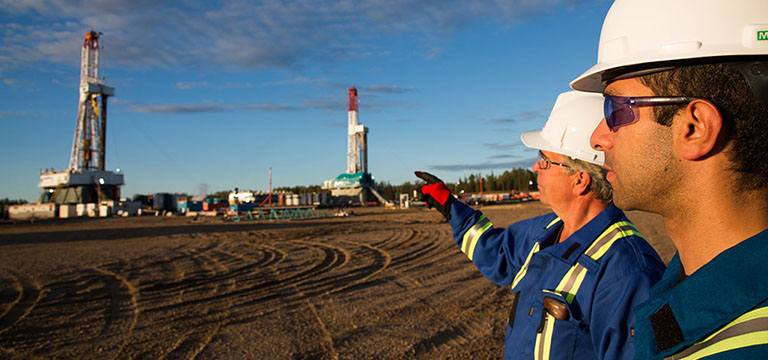 introduction
The following pictures and information are provided to help employees who are considering an assignment see what it is like to work and live in St John's.
St John's is the capital of Newfoundland and Labrador, with approximately 160,000 people living in the metropolitan area. Newfoundland is an island, and Labrador is connected to mainland Canada and borders the province of Quebec. It is easy to connect to the island from Labrador and vice versa, by coastal boat or by flying the intra-provincial airline. St John's is the oldest European settlement in North America and the downtown architecture and design elicit a sense of old world ambiance. The town is known for its colourful houses.
Summers here usually are mild and typically range from 10°C (50°F) to 20°C (68°F). Compared to the chilly other parts of Canada, winters are considered somewhat mild as well, with average temperatures of -8°C (17°F) to -1°C (30°F) in January. St John's weather often brings fog, wind, rain and snow and is sometimes characterized as unpredictable. The fog can last all day, sometimes causing travel delays at airports.
The St. John's airport is less than 10 kilometers (6.5 miles) from Chevron's downtown office. Flights are available daily to New York (3.5 hrs), Halifax (1.5 hrs) and Montreal (3 hrs).
work environment
Chevron Canada occupies one floor of Atlantic Place in downtown St. John's. Atlantic Place, at nine floors high, is the tallest office building in the city and looks out on scenic St. John's Harbour. The office capacity is about 70 people, with 1 large boardroom and 3 smaller meeting rooms. The setting is a mixture of offices and cubicles. There is a kitchen with a refrigerator-freezer, limited seating, and a coffee maker.
The ground floor of the plaza contains a food court with several hot and cold lunch options. There are numerous restaurants within walking distance.
All St. John's employees, including temporary employees, are eligible to participate in a cost-sharing arrangement whereby they can use any of the six GoodLife Fitness facilities located in the St. John's area.
Core office hours are Monday through Friday from 9 a.m. to 3 p.m. Around these core hours, employees can choose the schedule that is most convenient for them. The standard workday is 8 hrs and 20 minutes, not including time taken for lunch. The 9/80 schedule is used in Canada. Office attire is business casual and includes casual Fridays.
housing
St John's, in general, is considered a very safe city. According to Statistics Canada, St. John's ranks well above the national average for safety. Typically, housing does not have security systems and almost never includes an onsite security guard.
All St John's based employees on resident assignments are responsible for selecting their own housing. With the help of our local supplier, the employee will choose between a single family home, townhouse, condominium, or an apartment. At times, the rental market has been reported to be somewhat limited, therefore time should be allowed to find appropriate rentals. Expatriates on resident assignments bring or purchase their own furniture and housewares. They pay their own utilities including telephone, Internet and cable, electricity, water and gas. With the assistance of the local destination services provider, they negotiate and manage their own lease agreements. Housing that allows pets is usually available.

Most expatriates on resident assignment live within St John's proper which, at most, requires a 15-20 minute drive to the office.
For employees on temporary assignments, typical housing is a fully furnished corporate apartment and is usually within walking distance to the office.

All utilities are covered for expatriates on temporary assignments. This includes basic telephone, basic Internet, basic cable, electricity, water and gas.

For employees on temporary assignments, the company negotiates the lease terms for housing.

Typically expatriates on temporary assignments do not bring their pets.
education
St. John's has both public and private schools for grades kindergarten through 12. Many schools offer French immersion.
The school year runs from late August or early September until mid to late June.
Many public and private schools provide buses within a standard radius of the school. Outside this radius, transportation is the parents' responsibility.
The public school system in St. John's is managed by the Eastern School District. They are responsible for setting curriculum standards for both the English and French study programs within the public system. There are a variety of options available in the public system, many of which are comparable to the private school options.
The public schools offer a variety of extra-curricular activities in the areas of academics, athletics, arts, and music.
St John's private schools:

view slideshows about st. john's so you can know what to expect in the following categories:
support services
Expatriates on assignment in Canada are automatically switched over to the International Health Assistance Plan (IHAP) provided by Chevron. If on a resident assignment, it is also advisable for the expatriate and accompanying family members to sign up for provincial health care, the government sponsored health care plan. Signing up for this plan is of no cost to the applicant and facilitates easier access to local medical services.

There are no Chevron owned medical clinics in St. John's, but there are plenty of walk-in clinics and family physicians available.

Drivers are not provided in St. John's. Most drivers' licenses are easily transferable to the Canadian system. For winter driving, the company provides local driver training for employee and their family members.

Housing in Canada does not come with household help. Housekeepers may be hired through local services.

ATMs are widely available as is the use of VISA, MasterCard, and American Express.

There are five national banks in Canada, all of which offer a variety of banking options for expatriates moving to Canada.
HSBC also has a local presence.

The postal system in Canada is managed by Canada Post. There are also several courier companies available for domestic and international transport.

High-speed Internet access is widely available in local cafes, offices and homes.

St. John's has four public libraries with a large selection of books, CDs, DVDs, newspapers and magazines available to borrow.
shopping
There are two malls located in the St. John's area -
Avalon Mall
and
the Village
. Large chain stores such as Costco, Walmart, Canadian Tire, and Home Depot are located here, too. Furniture stores include
Leon's Furniture
,
Island Furniture
, and
Osmond's Furniture
.
There are several major grocery stores in the St. John's area including
Sobeys
,
Dominion
and
Coleman's
, all of which have a wide variety of stock and a steady availability of products.
There are a number of local specialty shops available for clothing, books, gifts and food. There are also speciality food stores such as
Belbin's
and Taste East.
transportation
Due to the proximity of most housing to the office, many people walk to work each day. If the employee prefers, there are a variety of paid parking options available for nominal fees.
The
public transportation system
in St. John's is a bus system which offers adult, child and senior fares for daily or monthly use. The bus system takes residents to a variety of sites throughout the city including the local university, malls, and downtown.
There are taxi options available as well.
Citywide
, Bugden's Taxi, and Avalon Taxi are some of the local choices.
When compared to other cities, there is very little traffic in St. John's. Most areas within the city can be reached within 15 minutes.
recreational and entertainment
St John's has outdoor activities that appeal to every age group.
St John's Harbour hosts a regatta each summer that draws hundreds of people and dozens of boats to the day-long event. The coastal waters also offer humpback whale watching and numerous fishing options.
The Grand Concourse
is an integrated walkway system that spans about 78 miles; The walkway connects rivers, ponds, lakes and parks in three municipalities (St. John's, Mount Pearl and Paradise).
There are several options for golfing in the St. John's area, including the 18 hole private club
Bally Haly Country Club
(which also offers seasonal curling) and the 27 hole public course at
Pippy Park
.
Marble Mountain
offers downhill skiing, snowboarding, snowshoeing, snowmobiling, dog sledding, ice climbing, cross country skiing and zip lining and is located on the west side of the island , about 7 hours by car from St. John's.
White Hills Ski Resort
is located just west of Clarenville (approximately 2hrs from St. John's) and is a popular destination for downhill skiing, snowboarding, back country skiing, cross country skiing, and snowshoeing.
The Royal Newfoundland Yacht Club
is 15 minutes from St. John's.
Terra Nova National Park
is located 125 miles west of St. John's. This park offers biking, boating, camping, canoeing, kayaking, diving fishing, hiking and swimming.
The
East Coast Trail
is a series of coastal hiking trails that cover over 335 miles in the province.
The Rooms
houses the Provincial Archives, an Art Gallery and a Museum and overlooks downtown St. John's. This facility showcases the history and culture of Newfoundland and Labrador.
The Railway Coastal Museum
is located within the city of St. John's in a train station that was built over a hundred years ago. The museum contains exhibits detailing the history of the Newfoundland Railway and the history of coastal water transportation in the province.
George Street
is located in the heart of downtown St. John's and is known as the go to place for its night clubs, pubs and local eateries.
There are several indoor and outdoor skating rinks as well as many public pools in the St. John's area.
The local movie theatres in St. John's,
Scotiabank Theatre St. John's
, play current releases.
additional information
St. John's offers a wide variety of worship options including several religious communities representing United, Catholic, Lutheran, Anglican, and Presbyterian along with Jehovah's Witness, Sikh, Jewish and Muslim.